Historical Review
The Pan-Soviet Scientific Center for Traumatology and Rehabilitation Orthopedics of Kurgan is directed by Professor Gavriil Abramovich Ilizarov.
(Fig. 1.1: Prof. G.A. Ilizarov has been awarded with the Lenin Prize for Medicine. Wearing the characteristic cap of Russian surgeons he admires the universal adaptability of his apparatus, demonstrated on the skeleton)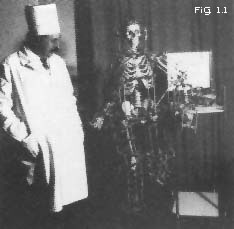 This Institute, also known as the "V.K.N.C.-VTO," an acronym which has substituted for the old name of "KNIIEKOT," is located in Kurgan, Siberia.
Professor Ilizarov, the recipient of the 1978 Lenin Prize for Medicine, is considered a hero of Socialist Work. As an Emeritus Professor and an Inventor Emeritus of the U.S.S.R., he recently achieved full membership in the Soviet Science Academy, a rare honor for a doctor of medicine.
Ilizarov began his work more than 35 years ago in Kurgan. His phenomenal accomplishments, only recognized in the Soviet Union during the last 10 years, received only scant attention in western journals. In November 1980, Carlo Mauri, an Italian explorer, ventured to Siberia where he was treated and cured of an infected tibial pseudarthrosis by Ilizarov. The bridge of cordial friendship established between Ilizarov and Mauri allowed us to invite the Professor to the XXII Italian AO Meeting in Bellagio, Italy, in June 1981.
(Fig. 1.2: Prof Ilizarov examines the radiographs of his friend Carlo Mauri, who suffered ten years from an infected nonunion of the left leg; Fig.1.2b: In the operating room. Mauri views the apparatus while still under spinal anesthesia; Fig.1.2c: Only few days later, he is encuraged to walk with apparatus; Fig.1.2d: After six months in the apparatus, his leg is completely healed)

It was there, under the chairmanship of Professor Roberto Cattaneo, Chief of Orthopaedics and Traumatology of the Lecco General Hospital, that Ilizarov participated in his first western conference. The subject of the conference was "Prophylaxis and Treatment of Bone Infections." Ilizarov presented three major topics:
1. "The Treatment of Open Fractures."
2. "The Treatment of Post-Traumatic Osteomyelitis."
3. "Bone Lengthening."
Our scientific curiosity was so stimulated by his presentations during the meeting that in July 1981, Professor Cattaneo and his associates, A. Villa, M.D., M. Catagni, M.D. and L. Tentori, M.D., began their first clinical trials with transosseous osteosynthesis as described by Ilizarov using a complete set of instruments for construction of the apparatus, donated by Ilizarov to the Lecco General Hospital. The results were so impressive that we arranged an educational tour of the V.K.N.C.-VTO.
After overcoming many obstacles, with the help of Mauri, a delegation consisting of Professor A. Bianchi Maiocchi, M.D. (Milan), Professor G. B. Benedetti, M.D. (Bergamo), A. Villa, M.D. (Lecco) and M.A. Catagni, M.D. (Lecco) completed the trip to Kurgan in April 1982.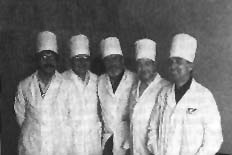 (Fig. 1.3: The first delegation of Italian physicians visiting the KNIEKOT with Mauri (from left: Catagni, Bianchi Maiocchi, Mauri, Villa, Benedetti))
Our stay in Kurgan allowed us to see this method applied to all areas of orthopaedics. We were intrigued by the evolution of Ilizarov's ideas through extraordinary clinical observations and applied research.
Beyond the Urals, Kurgan is situated on the western border of the immense Siberian state, some 3,000 kilometers east of Moscow.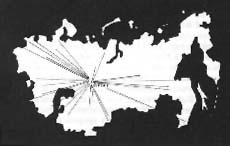 (Fig. 1.4: The city of Kurgan, located just east of Ural mountains entering Siberia, is in the middle of the U.S.S.R.)
In this small industrial city of 250,000, Professor Ilizarov first conceived of his method in 1951. It is said that one patient accidentally turned the connecting rods between rings in distraction rather than compression. Ilizarov observed new bone formation radiographically following this distraction. Recognizing the potential significance of this observation, he initiated a series of experimental work in animals.
His methodology marks the beginning of new and extremely original scientific and practical concept which have allowed the enunciation of new, previously unknown biologic laws regarding bone formation, osteoinduction and tissue neogenesis. Currently, the fundamental impetus of his Institute is the theoretical study and practical application of this new method of transosseous osteosynthesis in orthopaedics and traumatology.
Beginning in a small general hospital under Ilizarov's direction, research grew rapidly from a small laboratory with a staff consisting of Ilizarov himself and two scientific specialists. This laboratory became an operative branch of the N.I.I.T.O. of Leningrad (1969), expanded over the next two decades incorporating a vivarium which housed 50 animals and a hospital with two orthopaedic wards of 40 beds each. one for adults and one for children. The clinics were based at Kurgan City Hospital where. under the direction of orthopaedic traumatologists. clinical trials had begun using the Ilizarov method for acute trauma.
His new Institute, the V.K.N.C.-VTO, built in 1982, is currently one of the largest research centers in U.S.S.R.
It combines a hospital with 1200 beds and 12 operating rooms with modern technology focused on the fields of tissue growth and regeneration and a research department made up of seven scientific sections comprising fifteen research laboratories. These laboratories, each with its own surgical suite, are equipped to conduct experimental surgical research. There is a new vivarium which houses 400 dogs and is run by specialized maintenance personnel. a veterinarian, and four nutritionists. There are also separate departments in physiology. chemistry, biochemistry, biomechanics, nuclear medicine, radiology and mechanical engineering.
(Fig. 1.5: Entry to Ilizarov's new hospital called the Soviet Scientific Center for Traumatology and Rehabilitation Orthopeadics (V.K.N.C.-VTO inaugurated in 1983) - Fig. 1.6: Typical of Siberia, the institute is shaped like a snowflake. Each wing houses a separate clinical service, sharing central facilities of operating room, radiology, laboratory and physical therapy - Fig. 1.7: Front view of the institute)
The staff working in the Institute includes more than 1000 persons specialized in various fields, with 30 of the physicians dedicated exclusively to research.
The clinical sections of the Institute are organized into several subspecialty areas including lengthening, deformity correction, non-unions, hip, foot and infection. A well-equipped polyclinic facilitates the many outpatient procedures necessary during treatment. The twelve operating rooms are run like efficient "assembly lines" by hundreds of physicians trained in the various clinical applications. Particular care is dedicated to physical therapy, where one of the fundamental principles of this methodology, load and motion, is practiced under the direction of a well-qualified staff.
The Ilizarov apparatus is so versatile that its assembly is adaptable to treat any skeletal pathology. This treatment method is currently used by a majority of the hospitals in the Soviet Union, where it is estimated that close to one million patients have been
treated using this modality. In the past few years, the use of this method has diffused beyond the boundaries of the U.S.S.R. Italy can be considered the first western country to begin clinical trials which started in 1981.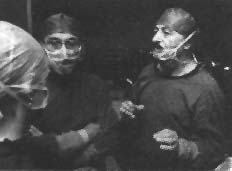 (Fig. 1.8: Prof. Ilizarov during a breack in the operating room at Lecco General Hospital, headquarters of the Italian A.S.A.M.I.)
The impact of this method, illustrated by Ilizarov himself at the Bellagio meeting in 1981, inspired us to organize A.S.A.M.I., the Association for the Study and Application of the Methods of Ilizarov (Lecco, 1982). As its first order of business, the association, with Cattaneo as president, organized the first course on The Theoretical and Practical Application of Ilizarov's Methods held in Longone al Segrino, Lecco, in June 1983. The course was directed by Ilizarov and his assistant, Dr. V. I. Shevtsov. There were over 300 participants among which were two honored guests, Augusto Sarmiento, M.D., and G. Dean MacEwen, M.D., from the United States.
In September 1983, thirty Italian specialists were invited by the Russian Ministry of Health to attend the First International Symposium on Transosseous Osteosynthesis held at the V.K.N.C.-VTO Institute in Kurgan. Eight hundred specialists from many eastern countries and a limited number of other western specialists also attended. In a separate monograph, I summarized the enormous amount of scientific research and clinical trials presented at this meeting.
In June 1984, the second instructional course was offered at Dorga, Bergamo, Italy, under the direction of Professor Benedetti, Chief of the "M. Rota" Institute of Bergamo United Hospitals. Ilizarov, with the assistance of Doctors V. I. Shevtsov and S. I. Shved, supervised this meeting where we first presented our own results with 600 patients treated by this method in Lecco and Bergamo.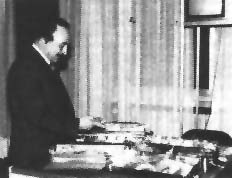 (Fig. 1.9: Prof Ilizarov examines the devices manufactured in Italy (Dorga, Bergamo, June 1984))
On the last day of this meeting, Ilizarov gave the concluding "Professorial Lecture" on the "Treatment of Nonunion" before a hall of 400 orthopaedic surgeons, including Professor Maurice Müller, the president of SICOT and the founder of AO International.
From 1983 to 1985, the Ilizarov method has spread rapidly through most of western Europe as a result of the A.S.A.M.I. organization in Italy. On February 1, 1985, Ilizarov participated in the "Fin de semana Traumatològico-Ortopèdico" in Spain, at the "Ramòn and Cajal" Center, as organized by Professor J. de Palacios y Carvajal. On February 4, 1985, in Barcelona, he also attended the meeting, "A Day on the Indications and Methods of the Ilizarov Technique", held at the San Rafael Hospital and
directed by Professor Viladot. In October of that year, the first French Course on the "Theoretical and Practical Aspects of the Ilizarov Technique" was held in Strasbourg, organized by M. D. B. Briot of the "Traumatology and Orthopaedics Center" directed by Professor I. Kempf. Later that month, other meetings were given at the University of Milan and at the "Bambin Gesu" Pediatric Hospital in Rome.
Many courses have since been organized in different cities of Italy, Portugal, Switzerland, France, Spain. Greece, Brazil and the United States. Regularly scheduled courses for orthopaedic surgeons are currently held at both the Lecco and Bergamo General Hospitals. In September 1986, there was an international meeting at the V.K.N.C.-VTO in Kurgan on the experimental, theoretical, and clinical aspects of trans-osseous osteosynthesis. including the first exchange of data by a group of western surgeons. In May 1987, the third meeting on the theory and clinical application of the Ilizarov technique was held in Longone al Segrino near Lecco. In January 1988, at St. Vincent. Italy, the International Congress on External Fixation provided a forum to compare various systems of external fixation that recognized Ilizarov's work as an exceptional breakthrough in bone biology.
This method is now used in many western nations and, more recently, the United States and Canada. Based on a 1987 poll, the number of European hospitals using the method included: Italy, 175; Spain, 80; France, 117; Portugal, 5; West Germany, 8, and Greece, 5, with more than 6,000 cases treated.
A.S.A.M.I. groups have been founded in France. Spain, Belgium, Portugal and Brazil to allow a joint effort in the advancement of scientific and clinical knowledge on this subject.
In order to document our progress, several monographs have been published in Italian. Our first monograph, published in 1983, the "Introduction to the Knowledge of Ilizarov's Method in Orthopaedics and Traumatology," summarizes the theoretical and technical aspects of the apparatus, the indications for use and the clinical and experimental results from Lecco and Bergamo.
The second monograph, the Proceedings of the First Symposium at the V.K.N.C.-VTO in September 1983, published in 1985 as "Transosseous Osteosynthesis According to G. A. Ilizarov - Experimental, Theoretical and Clinical Aspects," reports the preliminary biomechanical studies comparing the Ilizarov device to conventional external fixators with statistical analysis of clinical results. We subsequently published the first A.S.A.M.I. Bulletin on the "Transosseous Osteosynthesis of Tibial Fractures" (1985), the second Bulletin on the "Transosseous Osteosynthesis of Fractures and Nonunions of the Forearm" (1986) and the third Bulletin on the "Lengthening of the Leg According to Ilizarov's Method" (1988).
In view of a growing interest in Ilizarov's methods among English-speaking physicians, we have attempted to consolidate the experience of our western colleagues based upon clinical and research principles from the V.K.N.C.-VTO. We hope this textbook will facilitate the understanding of this difficult method and help all orthopaedic specialists who are about to apply it clinically.
In writing this textbook, we thank the orthopedists from Lecco and Bergamo, as well as numerous other colleagues, for their cooperation in providing information and case reports. From this clinical material, we attempted to clarify the different methodologies used by Ilizarov which had previously remained obscure due to language and cultural differences. In some cases, we have introduced helpful modifications of his techniques.
Professor Iizarov dead in 1992 in Kurgan.
---
THE DEVELOPMENT OF THE ILIZAROV TECHNIQUE IN NORTH AMERICA
Circular external fixation was first recognized in North America in the mid-197Os when North American orthopaedic surgeons who had visited the Soviet Union were exposed to Volkov's circular Kirschner wire apparatus and some of its applications. Following a trip to Russia, David Fisher, M.D., who was then a resident in Orthopaedics, designed a circular external fixator similar to the Volkov device which utilized threaded half-pins instead of wires under tension. For a variety of political reasons within the Russian orthopaedic community, and due to the fact that Kurgan was a closed city for tourism, North American orthopaedic surgeons visiting the Soviet Union were not exposed to Ilizarov and were only marginally familiar with the circular apparatus that bears his name. The possibilities of his method and the biology that he had pioneered went unrecognized until the introduction of these methods into western Europe by the Italians. At orthopaedic meetings in Italy and other centers in western Europe, North American surgeons were first introduced to the Ilizarov method
and its possibilities. As early as 1983, such prominent orthopaedic surgeons as Sarmiento and MacEwen were first exposed to Ilizarov's work. Another prominent orthopaedic surgeon, Dr. Victor Frankel, first encountered this method at a meeting in Spain in 1984. These casual encounters were met with great interest but were not followed by the technique's application until several years later.
Dr. James Aronson learned of this technique in 1983 from MacEwen. Intrigued by the biological implications, Aronson visited Lecco in 1984 as a traveling fellow with Professor R. Bombelli. Upon returning to the United States in 1984 as an assistant professor of orthopaedics at the University of Arkansas for Medical Sciences in Little Rock, Aronson initiated a series of animal experiments, first reproducing Ilizarov's own work and then evolving a basic biological model for distraction osteogenesis. As the first North American to design and carry out controlled research on this technique, he introduced the biological concepts clinically for limb lengthening using standard half-pin external fixators in 1985.
In 1983, Dr. Dror Paley, then a senior resident in orthopaedic surgery, first heard about the Ilizarov method from Bombelli, who was a visiting professor in Toronto. Paley first visited Lecco, Italy, in 1985 on a two-week, fact-finding voyage. He claims to have left Lecco both very excited and very disappointed. He states that he was very excited because this was the most exciting thing that he had seen in all his residency. On the other had, he left very disappointed because most other techniques in orthopaedics one can learn in one to two weeks. This technique he felt he could not learn in such a short period of time. It was at this point that Paley decided to do a fellowship in the Ilizarov technique in Lecco and Bergamo in Italy. He returned the following year and spent six months working, studying and training at the hospital of Lecco and at the hospital Matteo Rota in Bergamo and at the Institute in Kurgan. He was invited back to spend an additional month in Kurgan, which he did in March 1987. Following this extensive training, he began practicing this technique first in Toronto, Canada, then in Baltimore, Maryland, in 1987.
Together with Victor Frankel, M.D., Paley organized the first two international conferences in North America on the Ilizarov techniques, which were held in November 1987 in New York and in May 1988 in Washington, D.C. Ilizarov was in attendance and delivered his basic science and clinical lectures to an audience of many prominent North American orthopaedic surgeons.
Another important proponent of this technique is Stuart Green, M.D., of Los Angeles. Green had published a textbook on the anatomical safe zones for full-pin external fixation years before learning of Ilizarov from Paley. After visiting Kurgan with Frankel, Green became entrusted by Ilizarov to translate original basic science research into English, published in Clinical Orthopaedics and Related Research in 1989. Green's expertise in the areas of nonunions and osteomyelitis provided an immediate avenue for clinical application of Ilizarov's methods. This provided North American surgeons with the first published reports of this new method. Because of the enthusiasm of Paley, Aronson, Green, Frankel and others, the Ilizarov method has now gained a strong foothold in North America. Its future will depend greatly on the care and consideration given to it by its users.